Feedback Is a Gift That We Can't Expect From Everyone
November 1, 2021  •  12 min read
It's been 16 years since I've interviewed and the lack of feedback during the hiring process today is disheartening. Despite that reality, this is the process we've come to accept, but what if I didn't? What if I forgot about being a candidate and acted like an employee? What if I gave the gift of feedback?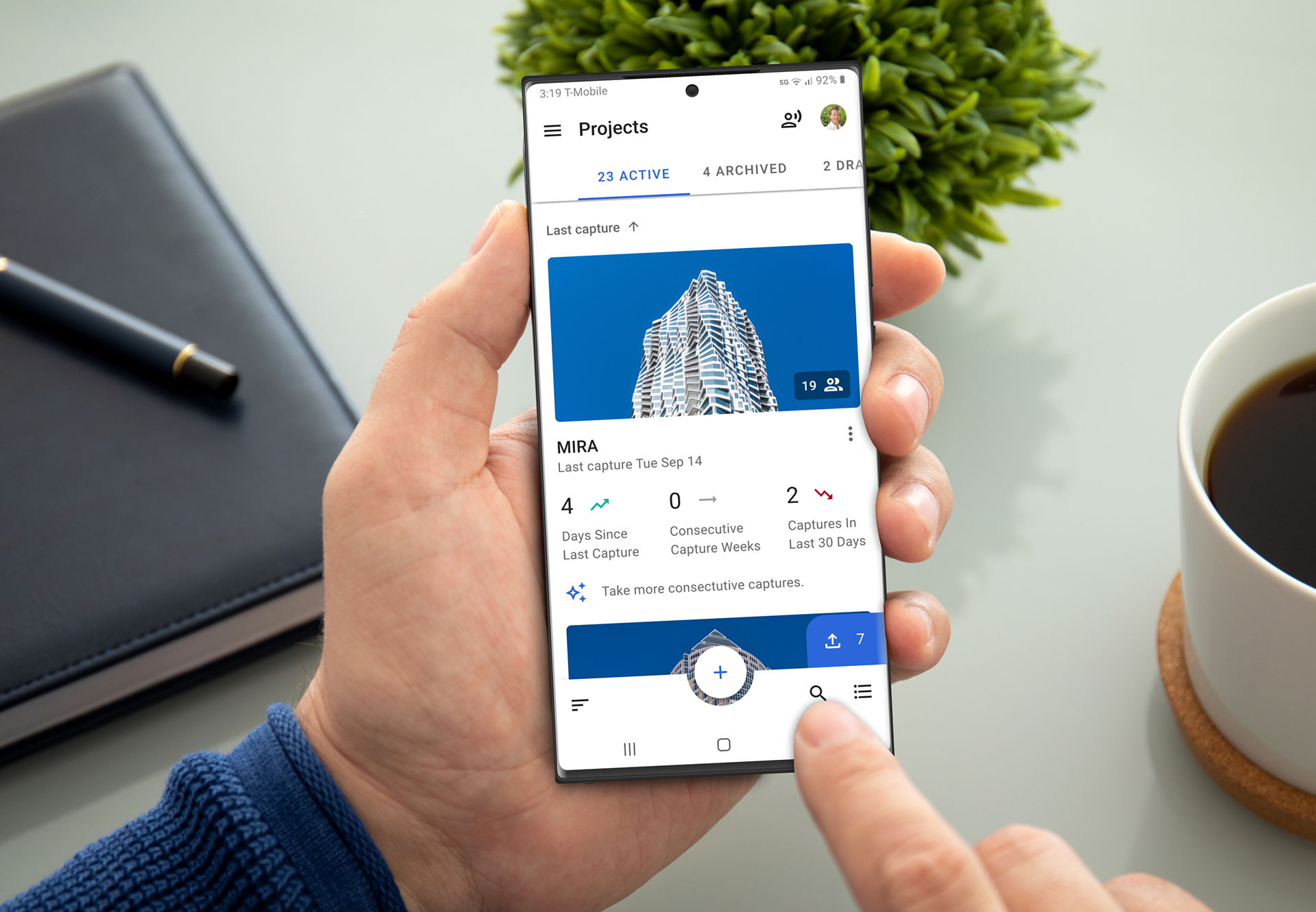 Well, this is an unfamiliar time for me. I haven't interviewed in 16 years. I worked 12 years helping turn a small web design company into a multi-million dollar SaaS empire. I took a three-year career break to invest in myself full time, learning new design, software, and communication skills to pursue new opportunities of creativity and challenge. And this past year, reading job descriptions of these fascinating problems companies need help solving, has been very inspiring to me.
But one thing that's emerged while trying to return to the workforce is the lack of feedback during the hiring process.
I've tried reaching out on LinkedIn to employees and recruiters, sending each a personalized message asking about the role and company. I've tried creating ATS friendly resumes with strategic keywords tailored to the job description. I've tried reviewing each resume with friends and family before submitting an application. I've tried following up on every application, but days, weeks, months would go by with this unsettling silence.
This led me to try paying for help by hiring a career coach who actually told me my resume was too honest and to lie about my career gap because it was a red flag to recruiters.
Everyone's career path is different. We all have unique gifts and our own ways of contributing to the greater good. So today I want to talk about the power of feedback.
Rock'n Wheels
We're all products of our environment and growing up, I had the privilege of having a mom and dad who use feedback to help others succeed. My mom's love of children led her to become a teacher for over 20 years; feedback helped her and students learn together. My dad grew up in his family's construction business and played guitar for over 50 years; feedback helped him and others flourish as construction workers, musical performers, and even bring our town back together.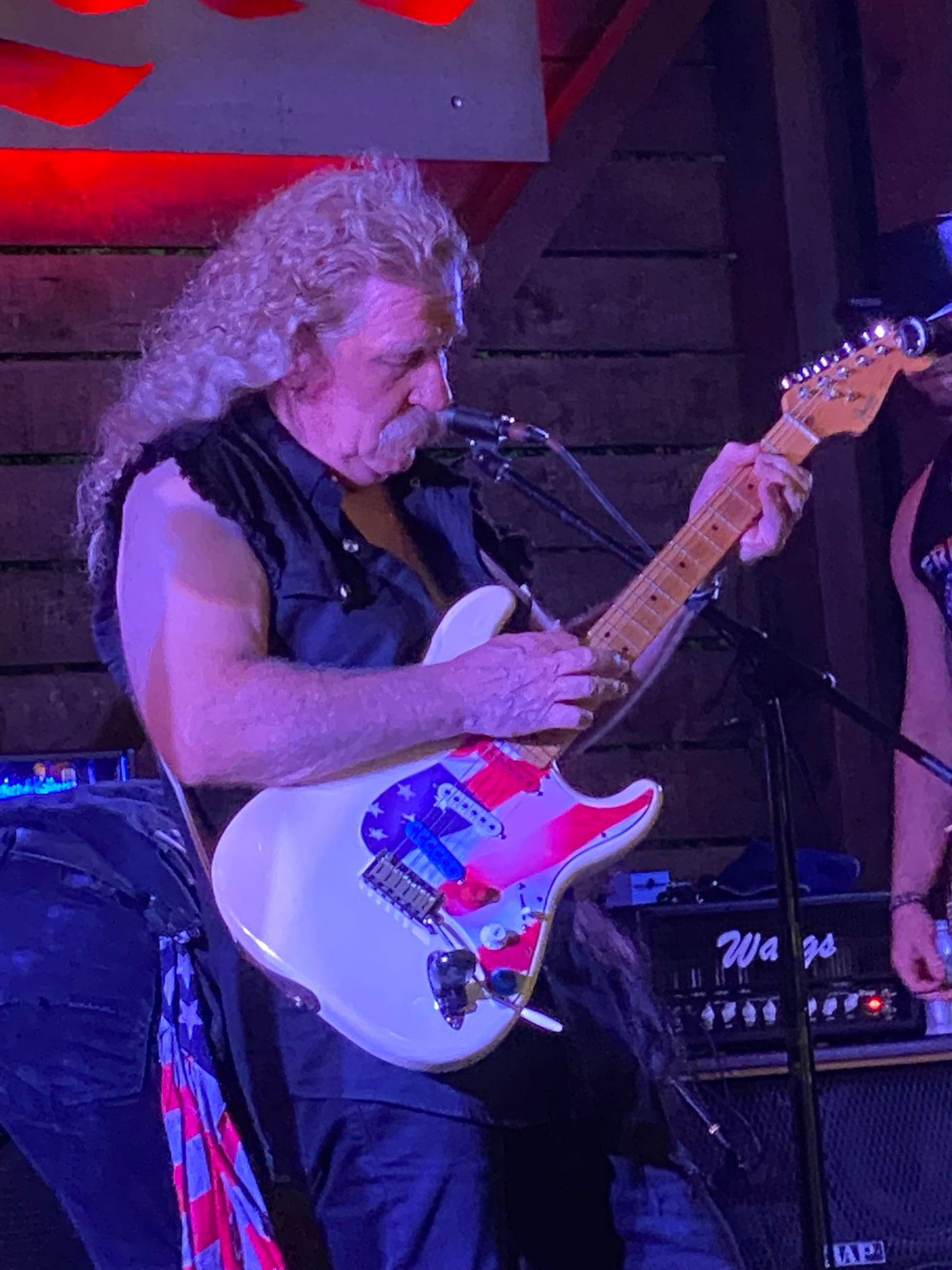 Today, a retired construction superintendent, he still continues jamming on his guitar at clubs, festivals and private parties with his southern rock band. He also has this friendly quality about him. You just want to talk to him for hours and people do. This has led him to be "Mr. Popular" around town.
Growing up, our town had an event that his band played at called "Community Days". There was a carnival, food court, and live music for an entire week with a parade on the last day. But after 20 years, the town had to shut the event down due to lack of funding.
As time went on, my dad noticed that friends around town would always mention how much they missed "Community Days". One day, he ran into the previous event coordinator and he too was having the same conversations. So they organized their own event called "Concert in The Park", just to see what would happen.
The first concert had about 50 people with bands playing in the park's gazebo. As more of the community attended, they added local food and alcohol vendors. To help the crowd see the bands better, they moved from playing in the gazebo to a stage. To bring more people together, they added a car and motorcycle show and renamed their event to "Rock'n Wheels".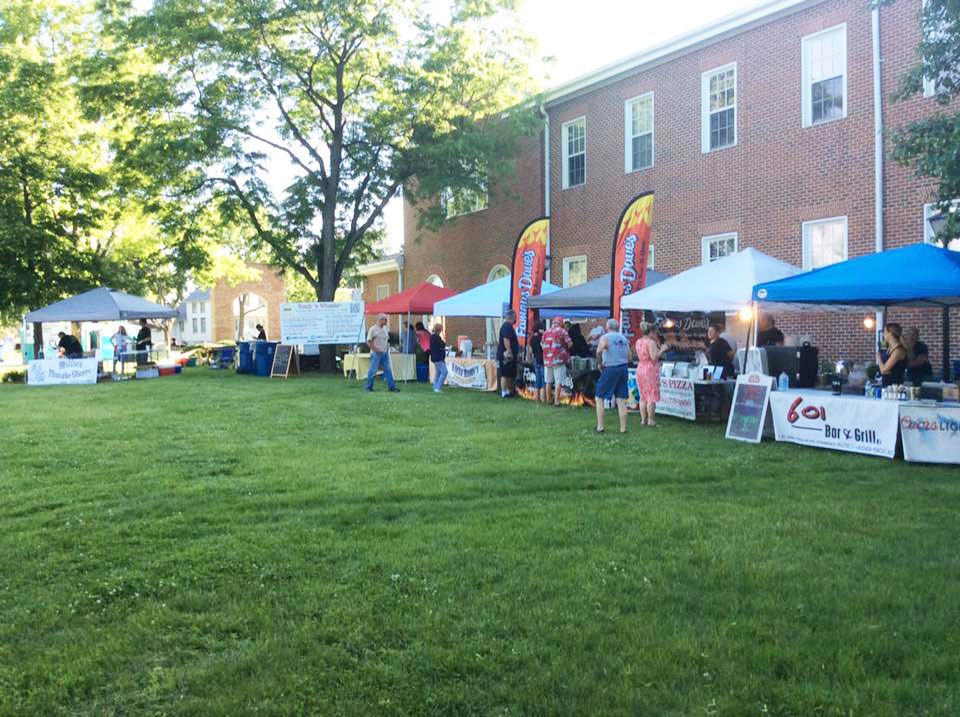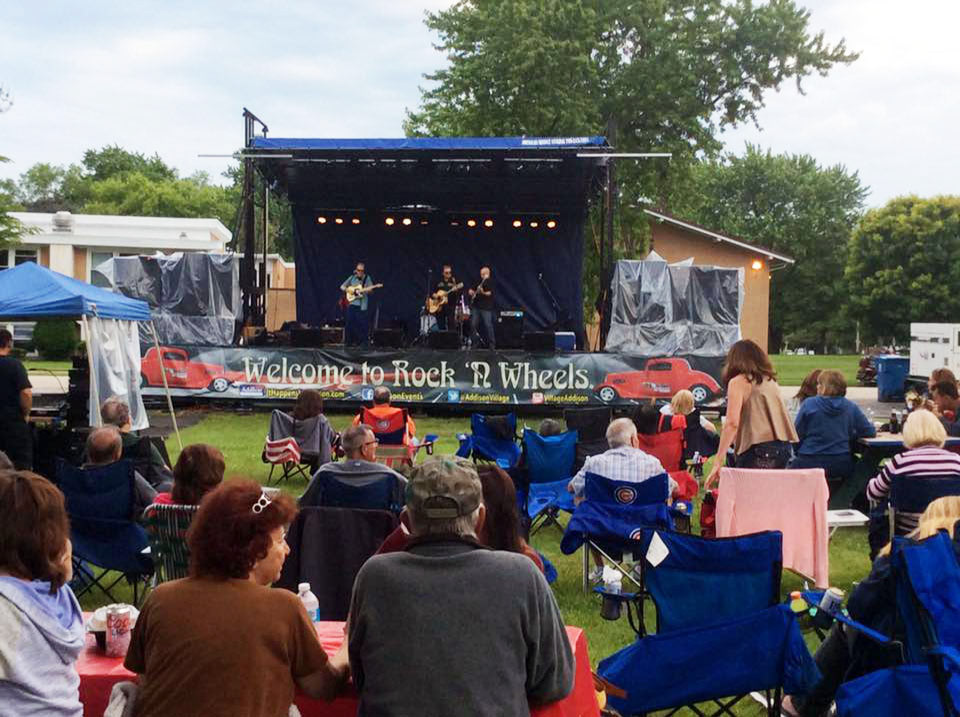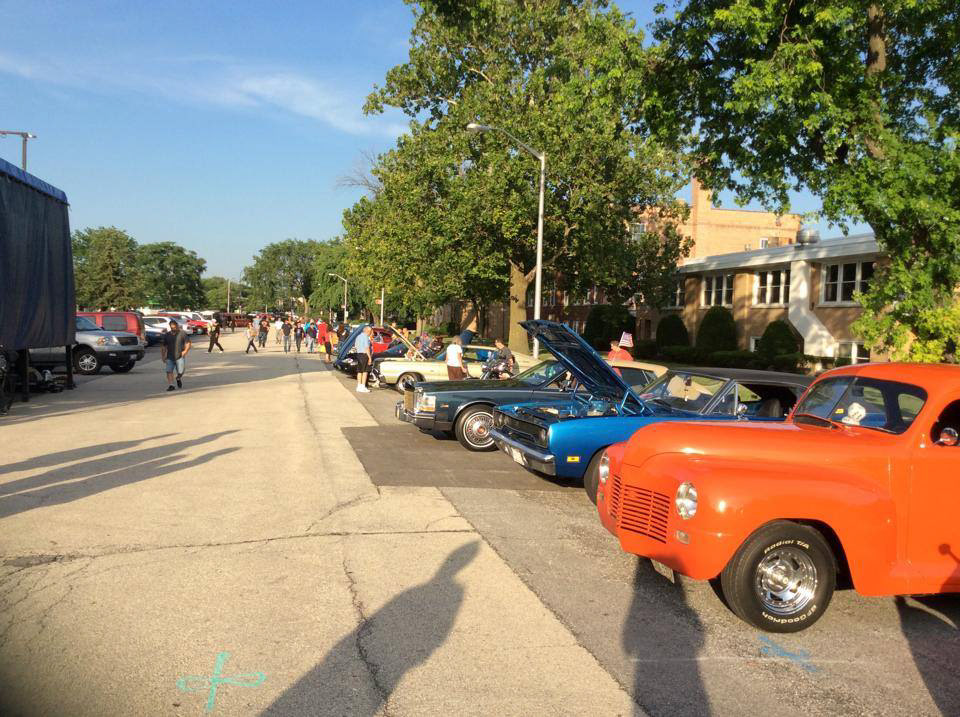 Four years later, because of sponsors, our town invested two million dollars in the park to accommodate the crowds of over three thousand people and national music acts.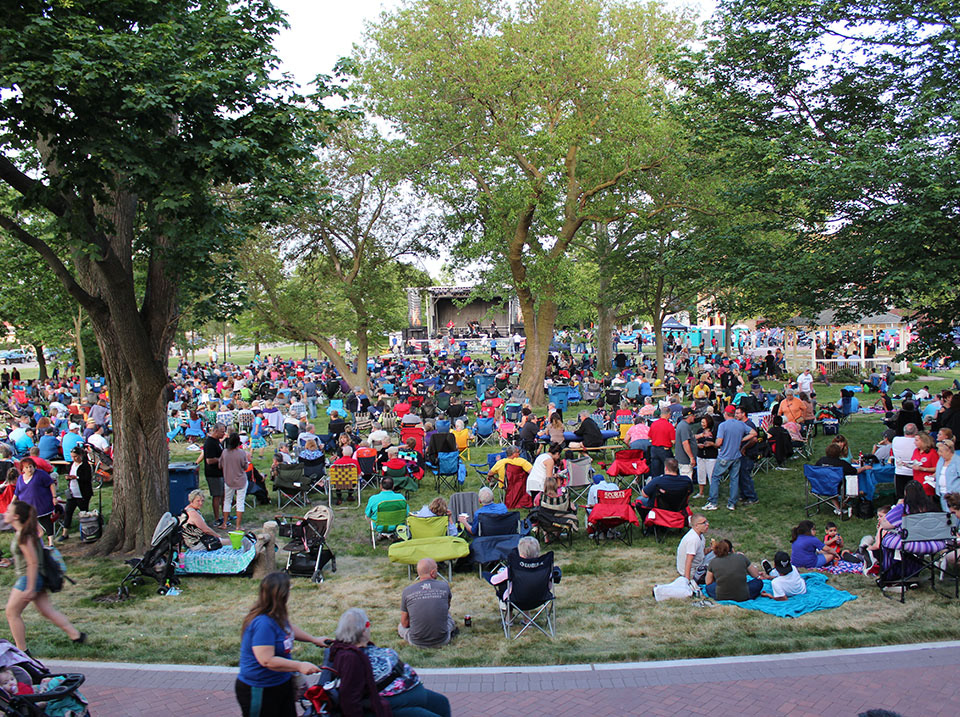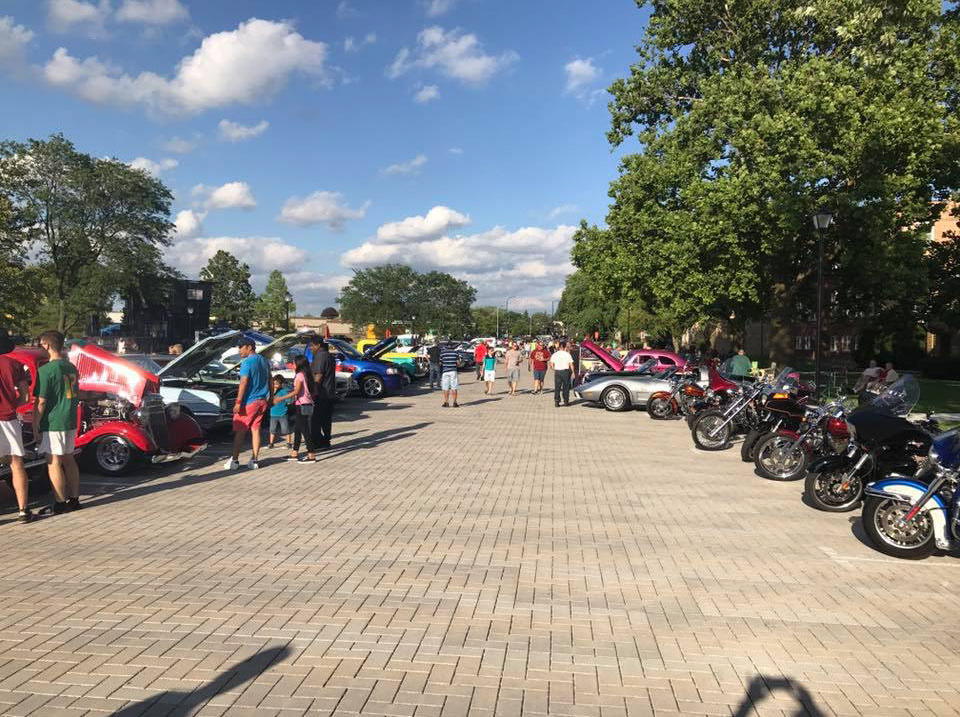 And witnessing how my dad's help and determination developed a community beyond what anyone thought was possible connected deeply within me, because there's power in feedback.
When we get the right feedback, we can build things we didn't think we could build. You can do things you didn't think you could do. When I thought about what my dad built for our town, he certainly couldn't have done it without feedback.

Honesty Is a Very Expensive Gift
Well, I've been trying to figure out how to get hired without feedback. The hiring process is very different from when I began my career 16 years ago. I had one interview with one person for one hour and was hired on the spot. Today we have three to seven interviews, conducted by three to five interviewers, over two to six weeks. 
We have a system of hiring that uses keywords and connections to decide our fate. Algorithms and who you know, not your performance, fills open positions. 
We have this troubling trend, "ghosting" that's becoming expected during the hiring process from both sides. A kind of disheartening insight: companies, candidates intentionally neglecting to share feedback, constructive criticism, without notice or explanation. And the data indicates we seem to be very comfortable doing this to each other.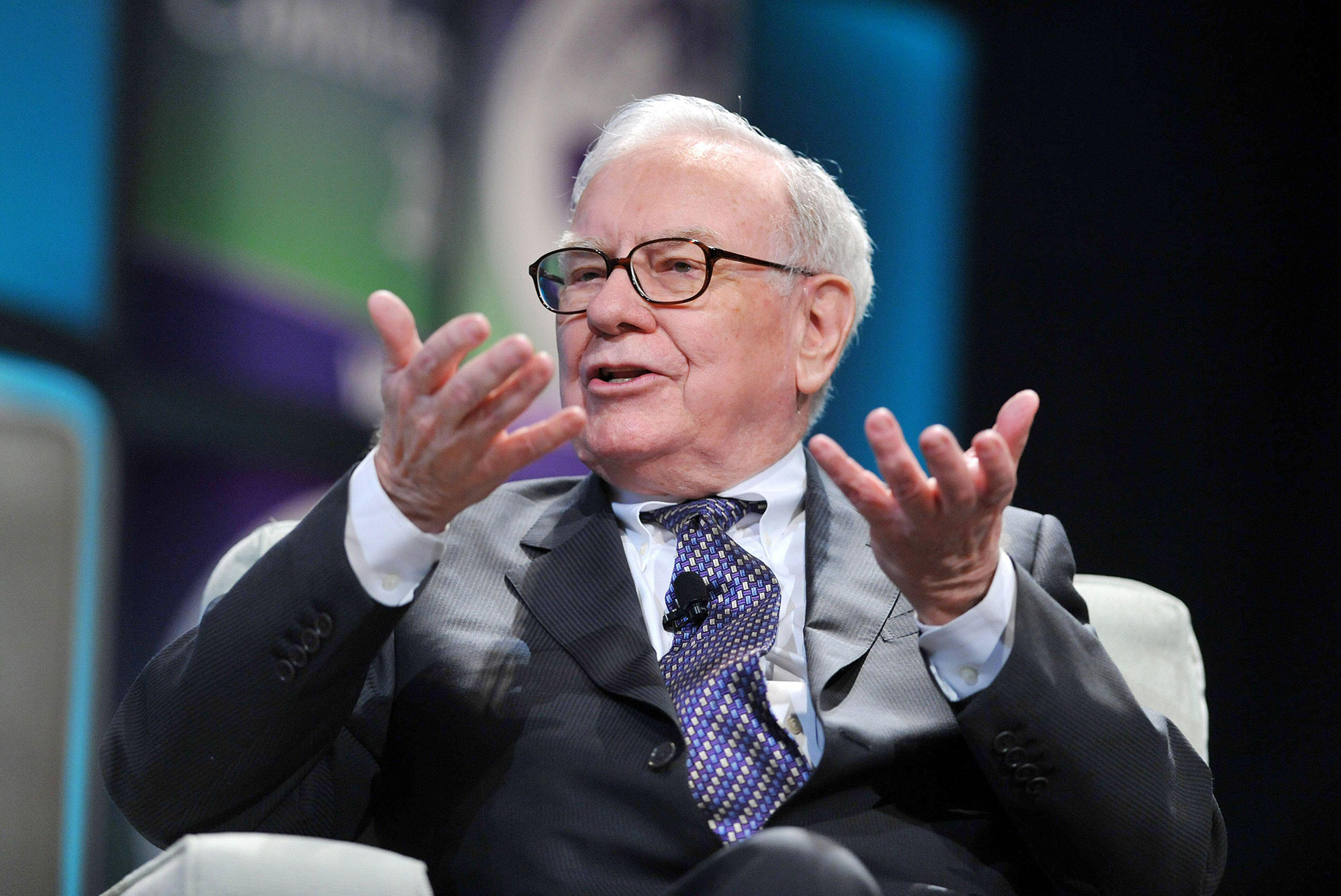 But there's another way of thinking about the lack of feedback. Warren Buffett, the greatest investor of all time, talked about this. He said: 
"Honesty is a very expensive gift; just don't expect it from cheap people."
Well, thinking about feedback as a gift that we can't expect from everyone is very much at the core of what influenced my next move.
About two months ago, I was up real late lying in bed and I started thinking, how did this happen? How could I have applied to these jobs and not hear back from a single one in eight months? How could I have paid for a career coach who told me to lie about my career?
I was just feeling overwhelmed... overwhelmed. But I remained tough, I remained curious, I remained hopeful. I reached for my phone, went on LinkedIn, and that's when I discovered the Senior Product Designer position at OpenSpace.
OpenSpace Builds Time Machines
Seriously, they do! No, I'm not crazy and no, you don't have to hit 88 mph to use it. They build virtual time machines for the construction industry by combining 360° cameras, computer vision, AR, and AI to make it easy to capture a complete visual record of a jobsite and track progress from anywhere. 

This solves a real industry problem, "What's going on at my job site?" Which is why in only four years, their customers have used the platform to capture over four billion square feet of construction projects in fifty-five countries around the world.
We only get a few chances in our careers to be involved in something like OpenSpace. That's really revolutionary and important to the world and this is only the beginning. But with my luck... I knew I'd have to think big, like 10x big, to have a fighting chance.
I was watching an interview with the CEO and co-founder of OpenSpace, Jeevan Kalanithi. He was asked: "Talk about the role of entrepreneurship and what you have to do to get out there." His encouraging response changed everything for me.
"It takes a little luck, a little empathy, a little observation and then the ability to just take a risk and go for it."
Well, Mr. Kalanithi, this one's for you!
Act Like an Employee
The hiring process is broken. It is! Especially for those of us who haven't interviewed in years. Despite that reality, this is the process we've come to accept, but what if I didn't? What if I forgot about being a candidate and acted like an employee? What if I gave OpenSpace the gift of feedback?
After reading the job description, the high-level summary of what they needed was a senior design generalist who can use emerging technology to deliver evidence-driven products that improve customer's lives globally by partnering strategically to learn, lead, and launch magical efficient design functions at scale.
So, over two months, I used the high-level summary as my problem statement and the job description as my product roadmap. This allowed me to design 10 deliverables to present feedback about how I could help solve current and future problems by redesigning their Android app.
Information Architecture
I began by defining the current architecture of the OpenSpace Enterprise product. This gave me a high-level content flow, structure, and functionality overview of their full suite of features to understand how users find information and interact within the system.
To design this, I analyzed product screenshots from the website and help center. But what really helped me understand the product was watching Georgie's webinars with Alex and Jessica. I lost count of how many times I referred to those videos throughout this project. I also enjoyed the pre webinar conversations. It gave me a sense of how fun, close, and "open" the culture is.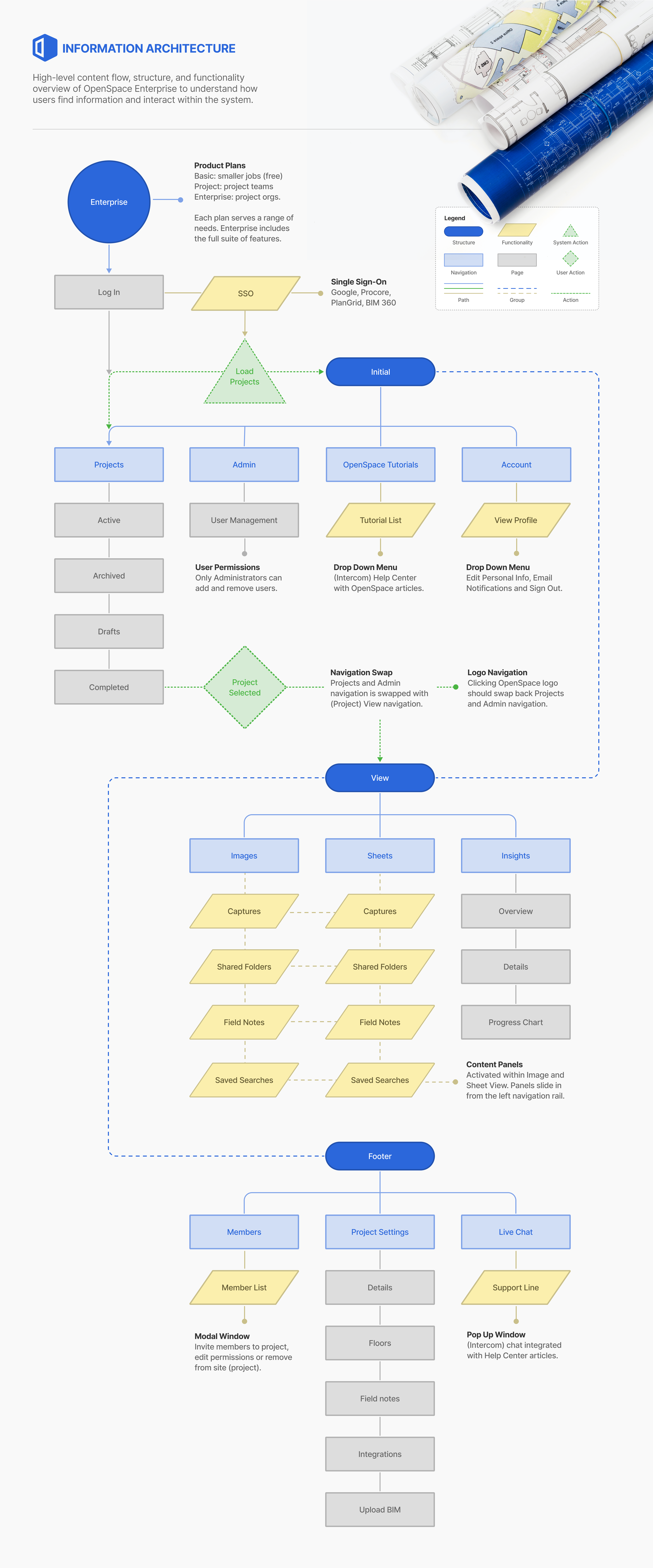 Product Assessment
Now that the architecture was complete, I needed to conduct a product assessment by analyzing the core image capture functionality through a deep investigation of the UX/UI.
This allowed me to properly evaluate the desktop product to express valuable opportunities and quality feedback. By also framing my evaluation as "How Might We" questions, it provides the perfect framework for innovative thinking, creative problem solving, and encourages collaboration.


Task Analysis
I wanted to have a comprehensive understanding of the product, so I moved from desktop to mobile and conducted a task analysis of the app. I analyzed the steps and behavior of a first-time user connecting their phone to their 360° camera to add a 360° Video Capture and Field Note to their project. 
To do this, I took multiple screenshots while watching videos and pieced them together to create an accurate task flow. This made it possible to allocate the favorable steps into my new wireflows while providing insight into cautionary or problem steps to revise or redesign.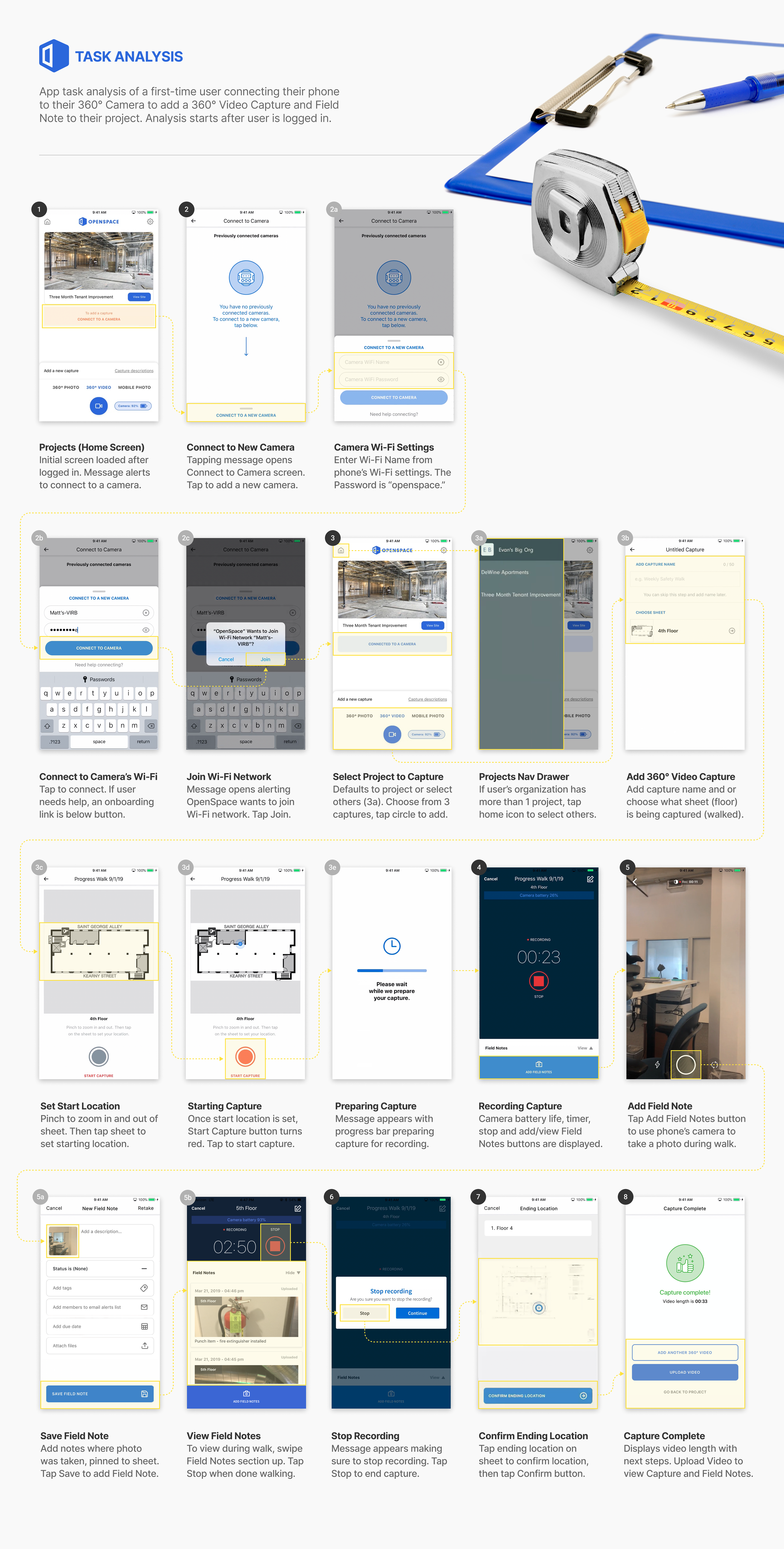 Wireflows
Now, I'm going to admit something that I probably shouldn't. I don't sketch. I go straight to wireframing. Let me explain! Growing up in a fast-paced working environment, sketching was never enough to drive user and business alignment. So I evolved into a (high-fidelity) visual storyteller, with the ability to articulate insights, intent, and interactions to help stakeholders envision opportunities and solutions. 
I'll show (and tell) you!
To design these wireflows, I applied feedback from my research (IA, Product Assessment and Task Analysis) to reimagine mobile-first workflows by envisioning how separate pieces could live within a unified experience designed for scalability and efficiency.
This provides stakeholders with an initial diagram of the new android app while verifying the paths of least resistance based on the user's intent.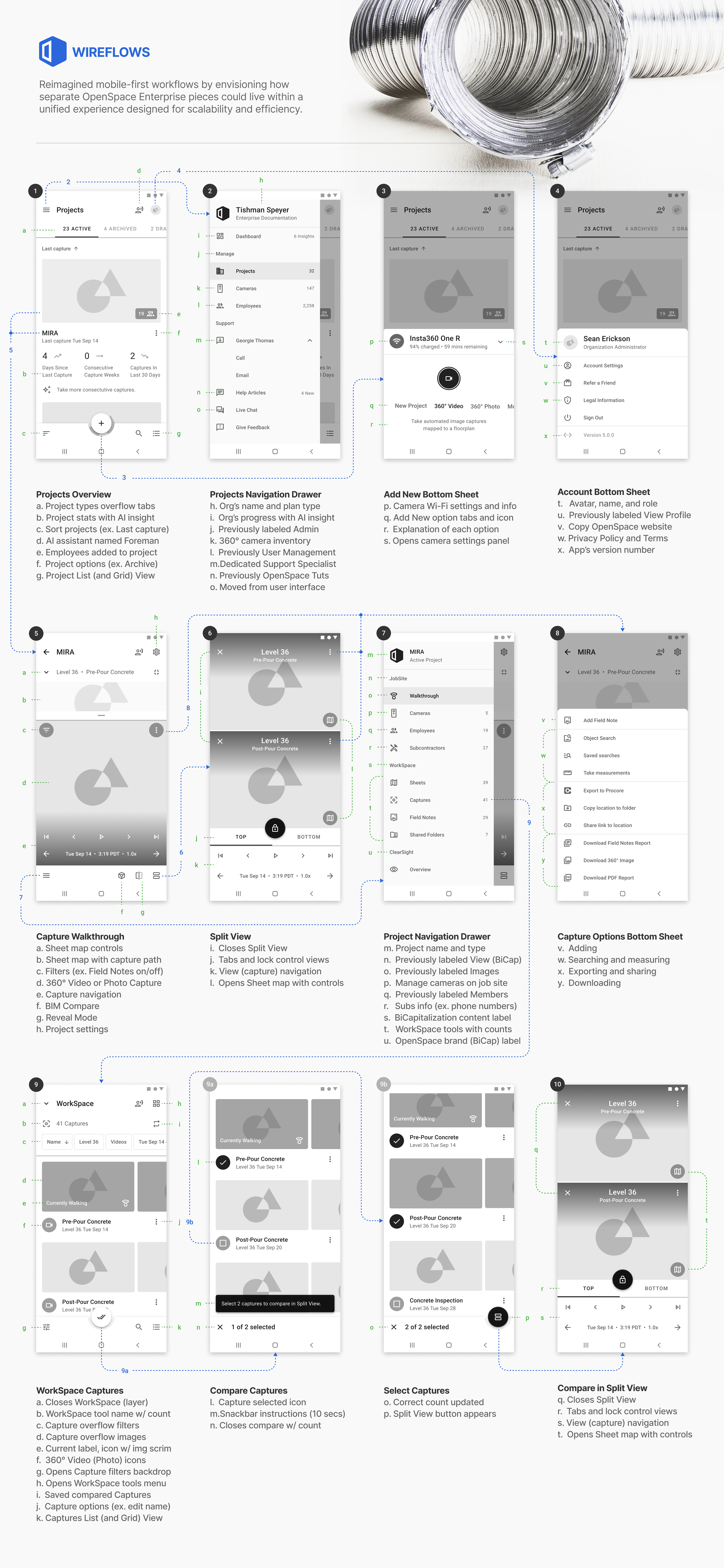 Task Flow
If it's not 10x better than how it's done now, they will stick with the old way. So I needed to conduct cognitive walkthroughs to confirm the learnability of the app's new system.
This resulted in wireframing a comprehensive reimagined mobile-first task flow of a user adding a 360° Video Capture and Field Notes to their project.
By sequencing user interactions, when a user resorts to an action, and confirmation of that action, the app's new system harnesses OpenSpace's technology and turns it into magic for the customer.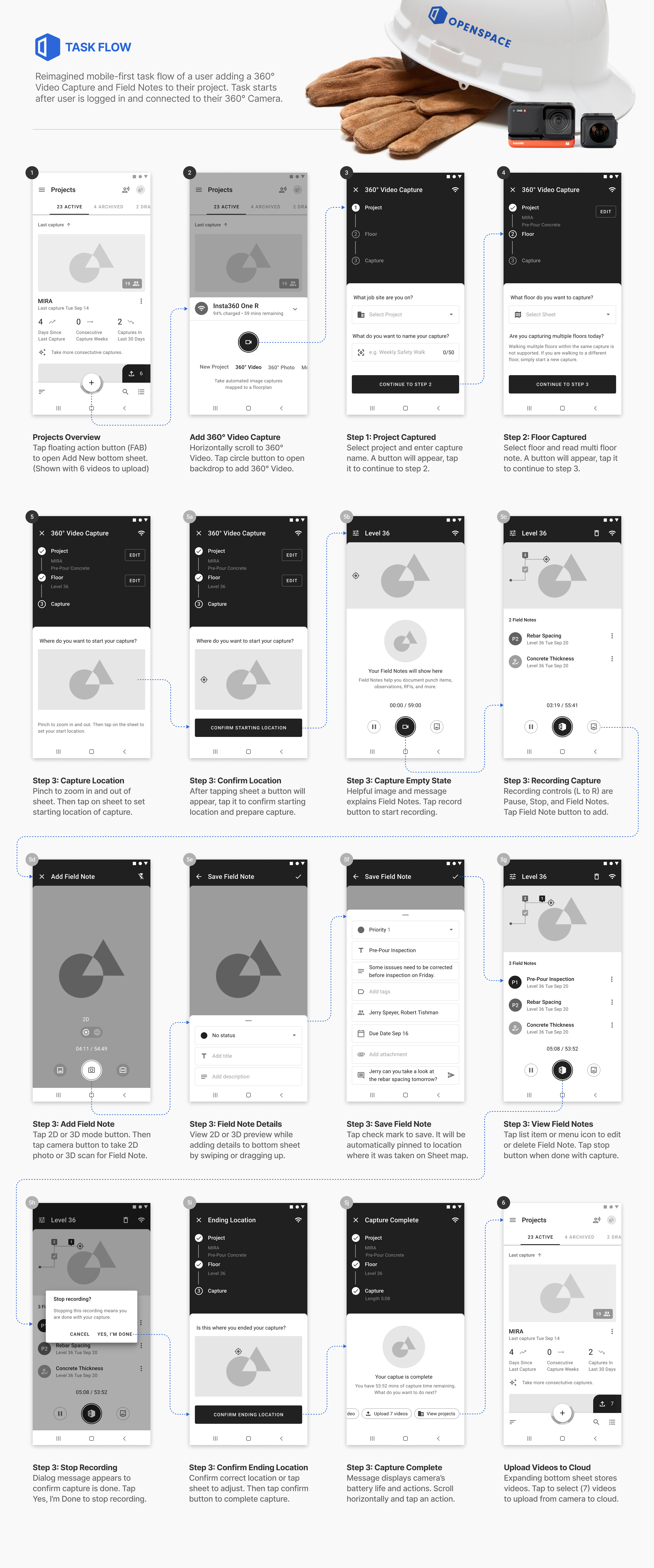 Inclusive Design
At this stage in the project, I was 5 weeks in and became curious about who I could be working alongside. I came across another video interview, this time with the Director of Product at OpenSpace, Jess Lam. He was asked "What are some things that you look for in candidates when they apply to your company?" His inspiring response made me feel like I was on the right track.
"We want people who are looking for problems to solve and not waiting to be told what to do."
The purpose of this project was to demonstrate my ability to help the team navigate ambiguity and set vision and strategy for their global products by inspiring and directing the team to build towards a meaningful, inclusive vision efficiently at scale.
I present to you OpenSpace, reimagined...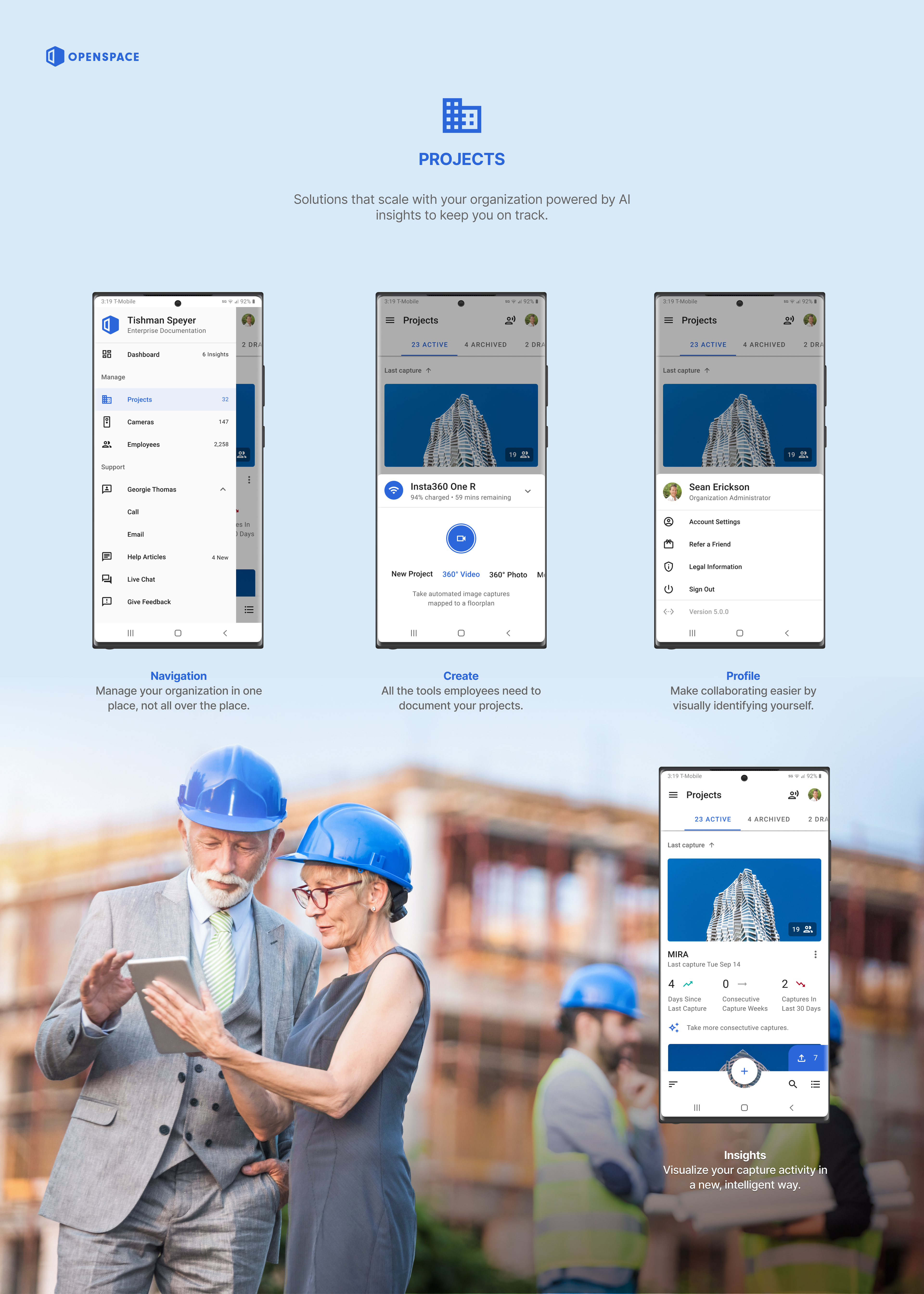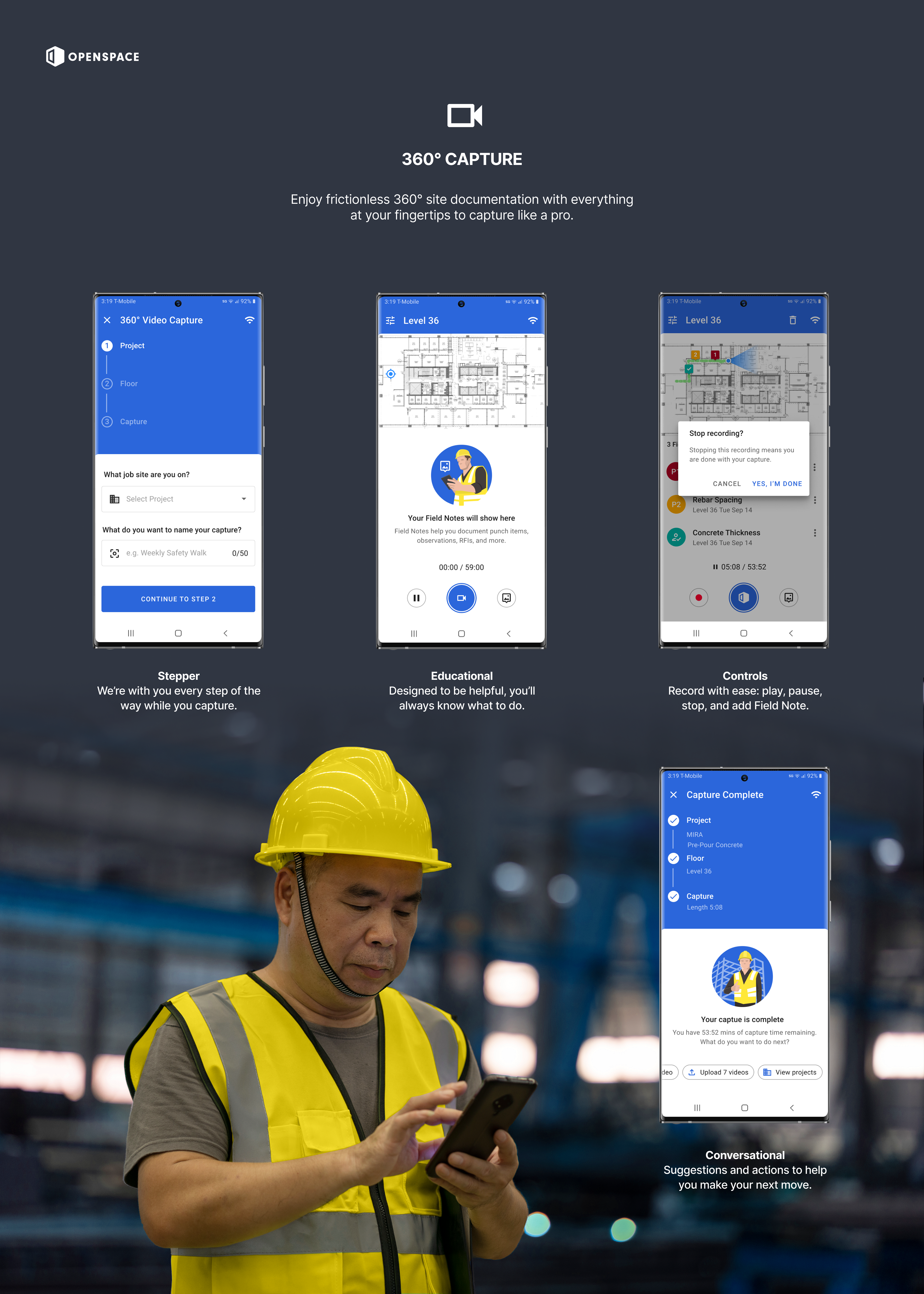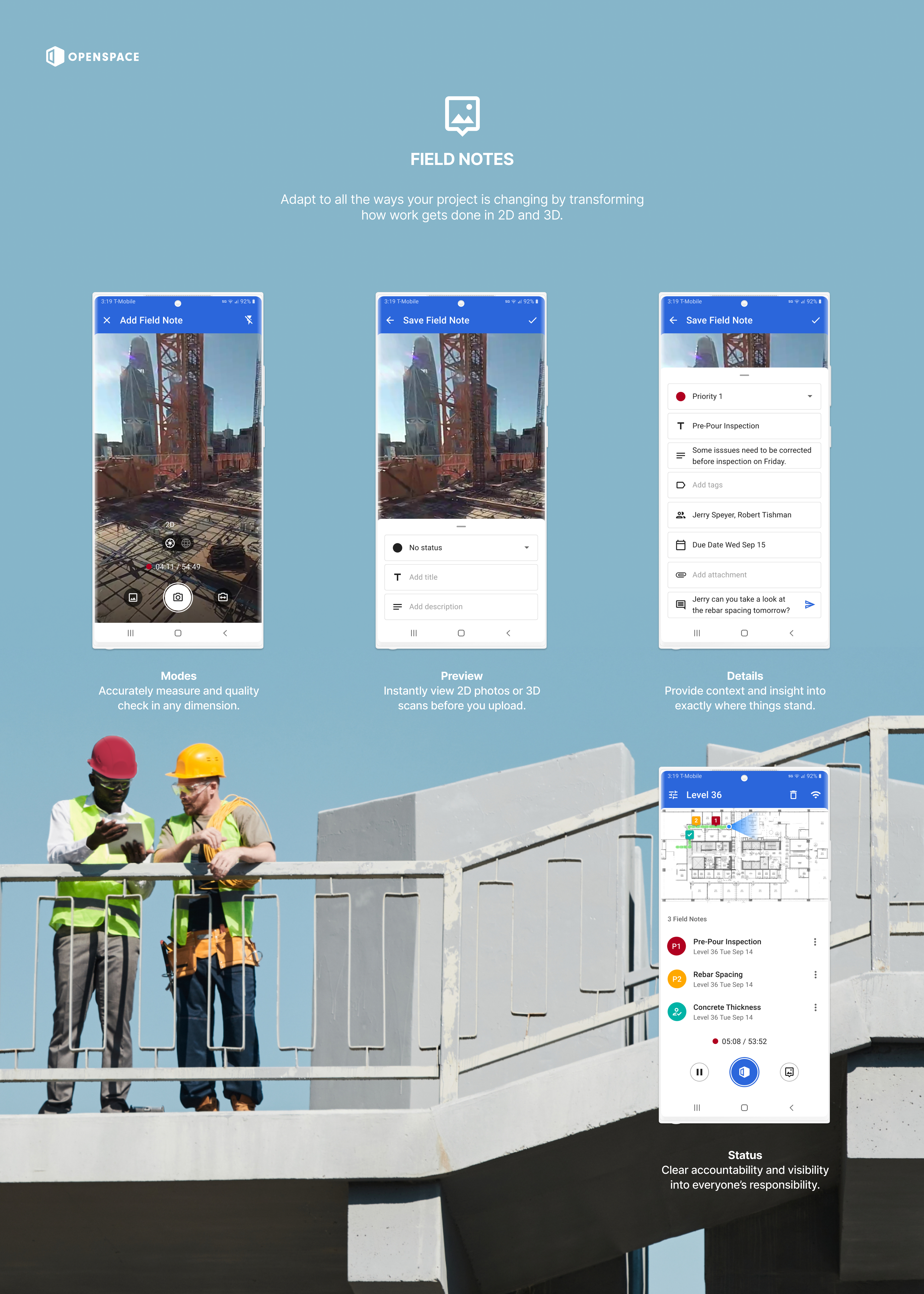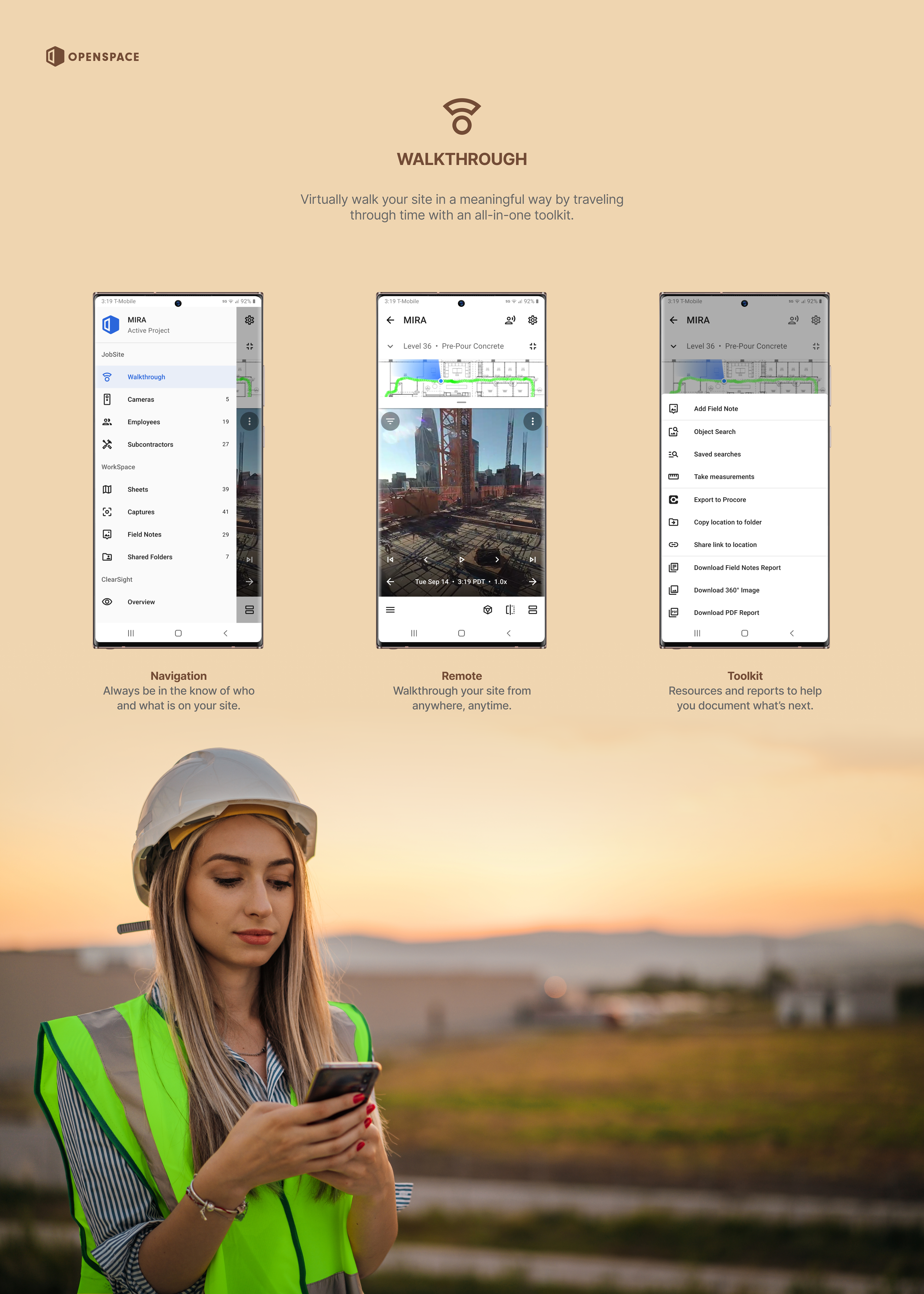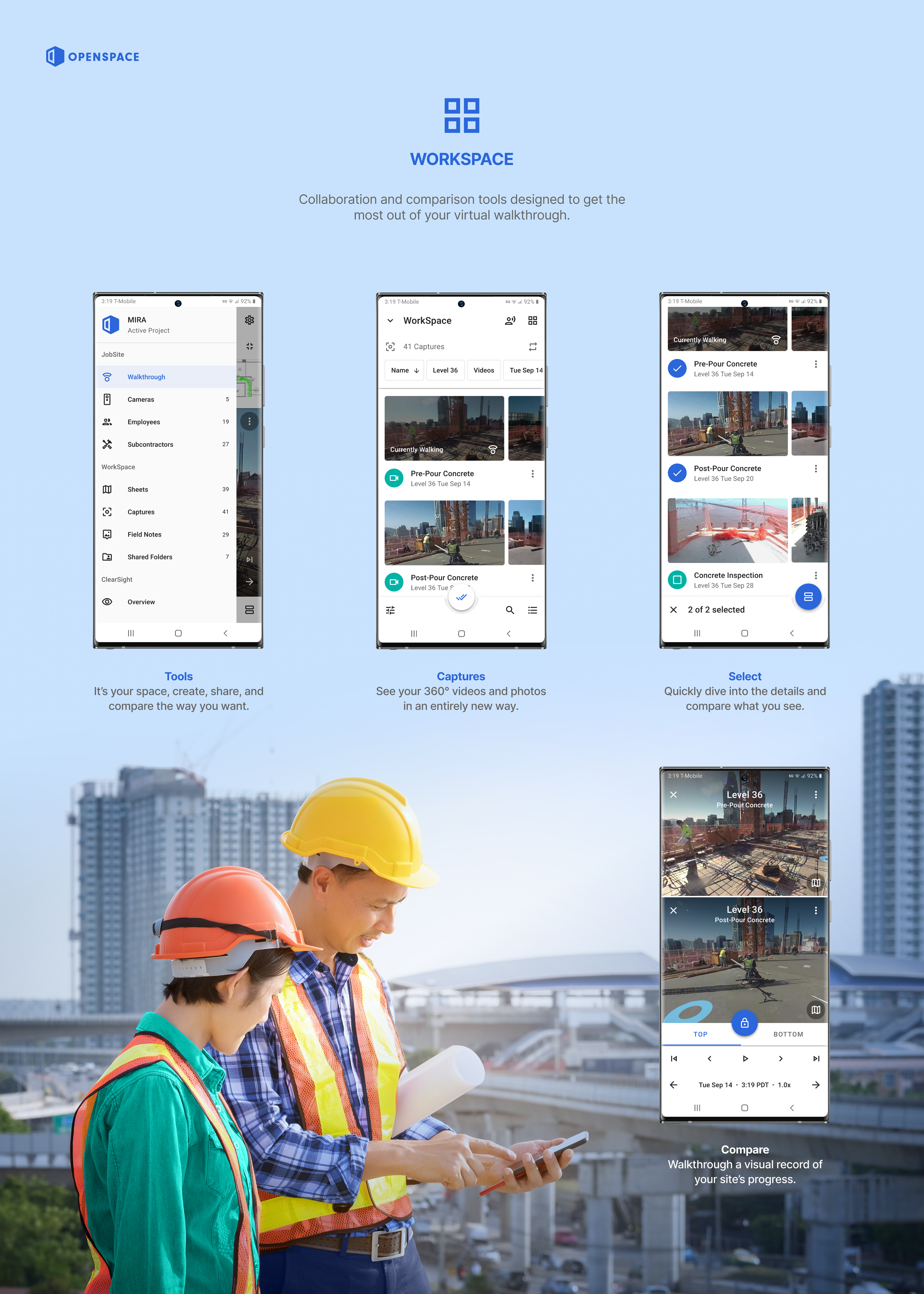 Interviewing vs Performing
I've come to understand that interviewing and job performance use totally different skill sets. One, I have zero experience and the other I have 15 years of experience. So I question, is interviewing well the same as performing well? And I feel that's a real sensible question, especially in my situation, simply trying to return to the workforce. 
Ultimately, to get hired at OpenSpace, I need to show value. For me, that means demonstrating the ethics I've shared today that I believe make us valuable, that lead us to success at the workplace (and in life).
I believe we have to be conscientious: knowing how to efficiently plan, work towards, and achieve realistic goals. We have to be curious: needing to constantly gain a deep understanding of people and things. We have to be collaborative: to get the best out of others, we have to appreciate their role and support that role.
And finally I believe, we have to be courageous: in a moment of uncertainty, admitting what we don't know lies an opportunity to learn and teach each other.
And to OpenSpace, this project has given me a sense of belonging and self-confidence that I'm the right fit for the Senior Product Designer role. So if you decide to take a chance on me, like I've taken a chance on you, I must warn you. My resume is too honest. My interviewing style will be lackluster. But I assure you I'm a top performer who simply wants to know, "when can I start?"